Partners
Let's face it, if you can't play well in the sandbox with the other kids then no one is going to want to be your friend. On the other hand, let the new kid borrow your plastic shovel and you could have a friend for life. Here are some of the folks who help fastloop deliver quality content, in a pleasing package, and who no doubt can help you in their area of expertise. In other words, we like having them in our sandbox.
---
Tri-Hard Sports Conditioning Systems
Wonder where all those nifty training tips come from? Look no further than Jason and Will at Tri-Hard Sports Conditioning Systems.
Tri-Hard is dedicated to providing world-class coaching and education services for endurance athletes including triathletes, duathletes, road cyclists, mountain bike racers, and runners. We assist endurance athletes of all ages and all ability levels from beginner to professional in working towards and reaching their personal goals.
Through expert guidance and superior service, we aim to create the most constructive and enjoyable athletic experience, both physically and mentally, for each athlete or group of athletes with whom we work.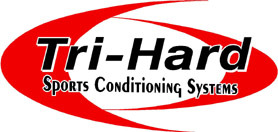 ---
Run For Research
Coordinated by the New England Chapter of the American Liver Foundation, the Run for Research team promotes awareness of liver disease and raises money to fund critical programs in research, education and advocacy. As the oldest and one of the largest official charities of the Boston Athletic Association's Charity Program, Run for Research runners compete in the historic Boston Marathon annually, sponsored by friends, family, colleagues and other contributors.

---
Amy's Interior Gardens
Amy Coughlin, a Certified Wellness Coach, educates individuals to make better healthy food and lifestyle choices. By creating awareness and balance, she empowers people to make significant, long-term choices which leads to living an energized and passionate life. Ultimately, her life experiences and education, coupled with her expertise in corporate training and recruitment, has inspired her to coach individuals and corporate groups in wellness education programs. Contact her today to get a complimentary health history and to sign up for her monthly newsletter.
---
Firstgiving
Firstgiving is online fundraising for everybody. Anybody can raise money online at www.firstgiving.com for any charity, any event, any reason, any time. We make it easy to spread the word and support the cause you care about. Choose from over 1.5 million nonprofits, set up a simple page and use it to tell people what you're doing and why. Firstgiving helps people raise an average of 2-3x more than they would offline. We also deliver the money to the charity, let them know where it came from, and thank the people who gave it. It's fundraising made easy.

---
Mindfire Interactive
Mindfire Interactive is an award-winning agency specializing in Internet Marketing, Web Development, and Creative Services. We bring our wealth of experience in Internet strategies to every client commitment, whether a corporate website development project or a managed Internet Marketing campaign. From "thought to finish", our marketing, development, usability, and creative teams have the knowledge and experience to handle the critical creative needs of your company.

---
Personal Best Multisport Coaching
We are a professional level endurance coaching company based in the Northeast USA. We work with motivated triathletes, runners and cyclist of all levels.
All PBMC coaches use PROVEN endurance training methods to guide our athletes. We don't re-name existing scientific terms or styles; we don't have fancy catch phrase products that act as marketing tools for other coaches. Words like "specificity", "repeatability" and "sustainability" dictate our daily workouts, based on EVERY individual's needs and goals.